2017 Honda HRV for sale near Waukesha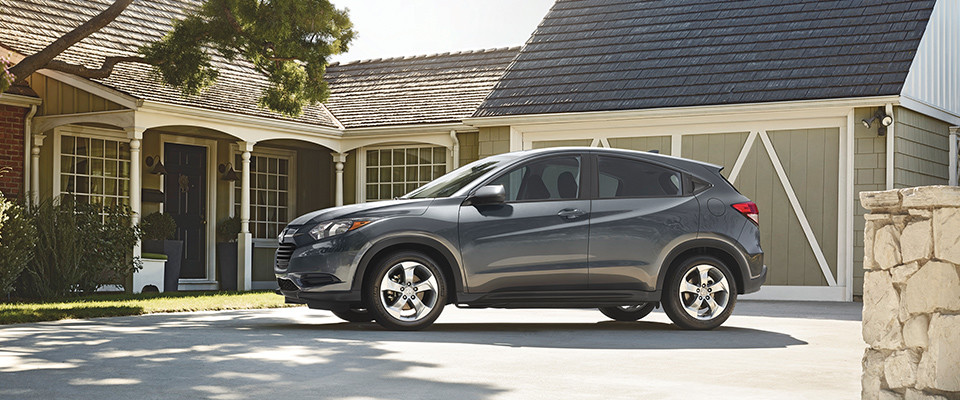 View 2017 Honda HRV Inventory
2017 Honda HRV for sale near Waukesha
If you are the type of driver who values functionality, safety and performance, there's a new 2017 HRV for sale near Waukesha that can be yours when you Russ Darrow Honda. This flexible, affordable crossover SUV is performs as well during your daily commute as it does when you're off on an adventure.
And there's always enough room for your family, friends, groceries and gear.
New 2017 HRV Vehicle Information
The HRV is the definition of crossover. It's 17-inch alloy wheels, body features sharp angles, striking curves, strong and distinct lines, and a bold and black front fender with a touch of chrome that gives the impression that it's a vehicle built purely for fun.
But the exterior belies the fact that a new 2017 HRV for sale near Waukesha will actually keep you as comfortable running errands in rush hour traffic as it is will when you're winding your way through the north woods along Lake Michigan.
The interior of the HRV is engineered for comfort and convenience. If the standard trim LX edition can best be described as smart, the upgraded EX and EX-L trims are nothing short of brilliant.
The standard edition features a Display Audio interface, automatic touch-based climate control and smart touch interior controls. The EX edition delivers heated seats in the front, an infotainment system, Pandora Radio, a one-touch power moonroof and Honda's LaneWatch system, which alerts you to vehicles in your blind spots whenever your blinkers are activated.
The EX-L edition takes comfort and convenience even further with leather seats, a leather-wrapped steering wheel and satellite radio.
Regardless of which trim is right for you, all of the features will be easily accessible and well within reach--because the HRV designers put the safety and comfort of you and your passengers first.
With two seats in the front and three in the second row, you'll likely be surprised by the head and leg room found in a new HRV for sale near Waukesha.
The LX trim has 100 cubic feet of interior space, which includes more than 24 cubic feet of space behind the second row seats. But thanks to Honda's famous "Magic Seat," the amount of room you can devote to cargo can quickly be increased by folding down one or all of the second row seats.
The high-arching roof, leg room and Magic Seat makes the HRV one of the most versatile crossover SUVs on the market today.
Specifications of the 2017 HRV near Waukesha
Of course all the comfort, convenience and space in the world won't matter if you're not safe--and a new HRV for sale near Waukesha is one of the safest vehicles in its class.
It earned a five-star overall rating from the federal government and comes equipped with safety features you've come to expect, including daytime running lights, airbags, anti-lock brakes, a vehicle stability system, a rearview camera, a tire pressure monitor and more.
You and your passengers will be safe in a new 2017 HRV for sale near Waukesha--and you can also be confident that you'll get where you're going with ease.
The HRV has a 1.8-liter, 4-cylinder inline engine that delivers 141 horsepower. You can get your HRV with automatic transmission and all-wheel drive or a manual transmission and front-wheel drive.
Either way, you'll appreciate the estimated 28/34 miles per gallon.
If you are ready to test-drive a crossover SUV that's as stylish and sporty as it is safe and practical, stop by Russ Darrow Honda near Waukesha today. We're open six days a week and always happy to help you find just the right vehicle.
Directions to Russ Darrow Honda
Contact us about the 2017 Honda HRV