2017 Honda HRV for sale near Hartford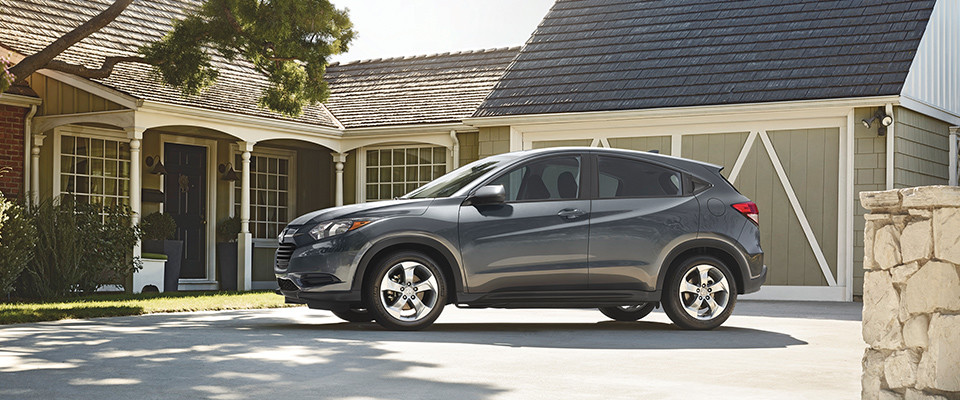 View 2017 Honda HRV Inventory
2017 Honda HRV for sale near Hartford
If you are looking for a vehicle that is stylish, sporty and versatile, you're going to want to check out a new 2017 HRV at Russ Darrow near Hartford. When you do, you'll find a crossover SUV that is at the top of its class in safety, convenience and versatility.
New 2017 HRV Vehicle Information
One of the first things you are sure to notice about a new 2017 HRV is its body. It doesn't look like your standard crossover SUV--because it isn't.
The engineers crafted a vehicle with style, featuring sleek lines, sharp curves and a big, black bold front fender that announces to the world that you have arrived. And they even added 17-inch alloy wheels and just the right amount of chrome to make your new vehicle stand out that much more from the crowd.
And that's just the beginning.
The interior of a new HRV for sale near Hartford is engineered to impress. From the one-touch Display Audio Interface to the Automatic Climate Control to the rearview camera, you'll find everything you need well within reach.
And if you are the type of driver who appreciates conveniences that make your HRV experience even more enjoyable, you can opt for the EX edition, which comes complete with an infotainment system, a one-touch sunroof, heated seats and Honda's LandWatch system, which alerts you whenever another vehicle is hiding in your blindspot and your lane-change indicator is activated.
The EX-L edition of the HRV takes comfort and convenience to the next level with leather seats, a leather-wrapped steering wheel and an ultra-intuitive navigation system.
In addition to the comforts and conveniences offered up in a new HRV near Hartford, you are sure to appreciate all of the space it provides. Whether you are driving, navigating or sitting in the spacious second row of seats, you are sure to have ample leg- and head-room.
The LX trim delivers 100 cubic feet of interior space, including more than 24 cubic feet of cargo space behind the second row of seats. You can certainly seat four passengers comfortably--one in the front (plus driver) and three in the second row.
And if you are in need of additional cargo space, Honda's "Magic Seat" allows you to fold down the second row of seats in a variety of configurations to allow for more space for cargo tall, long, short and heavy.
The HRV's flexibility makes it one of the most versatile crossovers on the market today.
Specifications of the 2017 HRV near Hartford
When getting to where you are going matters, a new 2017 HRV for sale near Hartford makes all the sense in the world.
It delivers gas mileage that is among the best in its class--28 miles-per-gallon in the city and 34 miles-per-gallon on the highway.
You won't be disappointed by the 1.8-liter inline-4 engine that gives you enough horsepower (141) to handle everything from rush hour traffic to the hills of northern Wisconsin.
Yes, a new 2017 HRV for sale near Hartford gives you options--from taking the kids to school to getting you to work to giving you enough room to pack up and get out of town for the weekend.
If you are ready to test drive a vehicle that is sporty, stylish, reliable and incredibly affordable, stop by Russ Darrow today. Our sales team is knowledgeable, caring and ready to help you find a vehicle that is perfect for you and your family.
Hopefully, a new 2017 HRV is that vehicle.
Directions to Russ Darrow Honda
Contact us about the 2017 Honda HRV