2018 Honda Clarity for sale near Slinger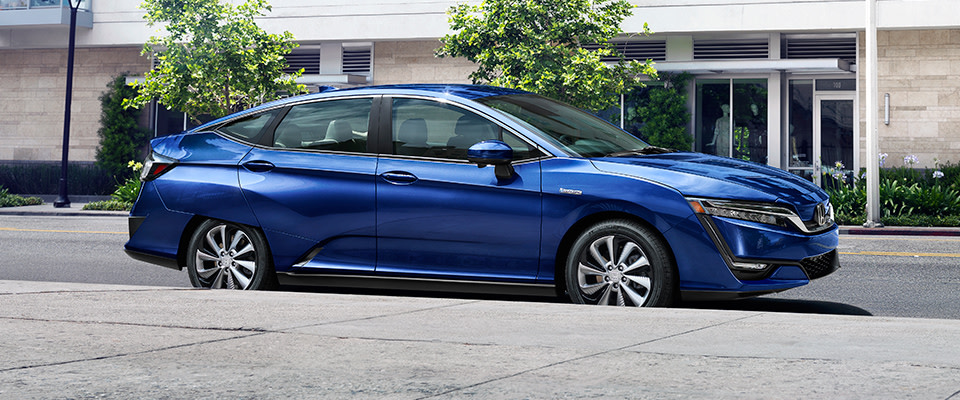 View 2018 Honda Clarity Inventory
2018 Honda Clarity for sale near Slinger
Honda released the world's first hybrid vehicle, the Honda Insight, in 1999. This year, Honda is debuting the world's first automotive platform to feature a fuel cell, full electric and plug-in hybrid vehicle. Here's a look at the 2018 Honda Clarity lineup and where it'll be available.
The Fuel Cell Clarity
The 2018 Clarity Fuel Cell (FCV) is an eco-friendly version of the clarity that capitalizes on hydrogen fuel cell technology. With a range of 366 miles, the FCV offers excellent range for a vehicle that uses absolutely no gasoline. Infrastructure for hydrogen-powered vehicles isn't readily available nationwide, though.
This is a promising version of the Clarity that may become the sedan of the future, for it has the capability to take road trips without using traditional fuel. For now, however, the FCV's availability will be limited to Southern California where hydrogen fuel cell infrastructure is in place.
The Full Electric Clarity
The 2018 Clarity Electric (EV) is another fuel-free version of the environmentally responsible sedan. The EV's range is limited to 89 miles, but infrastructure for electric vehicles is more widely available right now than fuel cell stations are.
The EV is an excellent everyday vehicle, but it too has a limited availability. Honda plans to roll it out in California and Oregon first, before expanding to eight other states.
The Plug-In Hybrid Clarity
Unlike the FCV and EV, the 2018 Clarity Plug-In Hybrid (PHEV) will be available throughout all 50 states (and Canada). Once it's released, we at Russ Darrow Honda will have many new 2018 Clarity PHEVs for sale near Slinger. The PHEV is the first plug-in hybrid version of the Clarity, and it promises to be the most popular version of the Clarity in the immediate future.
The PHEV will offer the flexibility of an electric engine and a four-cylinder gasoline one. It'll have an all-electric range of 42 miles, which is more than enough for most people's commutes. When needed, the traditional engine also provides power and increases the total range to 330 miles. Honda estimates that the two engines' fuel economy will be 105 MPGe.
Because the PHEV relies on both engines, drivers don't have to worry about finding a place to power up their vehicle or get more fuel. The PHEV can be charged anywhere there's access to electricity, and its traditional engine only requires gasoline to run.
Until there is more infrastructure for hydrogen fuel cell vehicles and full electric vehicles, plug-in hybrids will be the most practical environmentally friendly vehicles. The PHEV promises to be one that many drivers like.
To test drive a Clarity PHEV that's for sale near Slinger, come see our dealership at 9301 West Brown Deer Road in Milwaukee. Once Honda officially releases the 2018 Clarity, we'll have many new Clarity models for sale right near Slinger, and our sales team would be happy to answer any questions you have about them. Stop by anytime between 9:00 a.m. and 9:00 p.m. Monday through Friday, or 9:00 a.m. and 5:00 p.m. on Saturday.
Directions to Russ Darrow Honda
Contact us about the 2018 Honda Clarity