2018 Honda Clarity in Milwaukee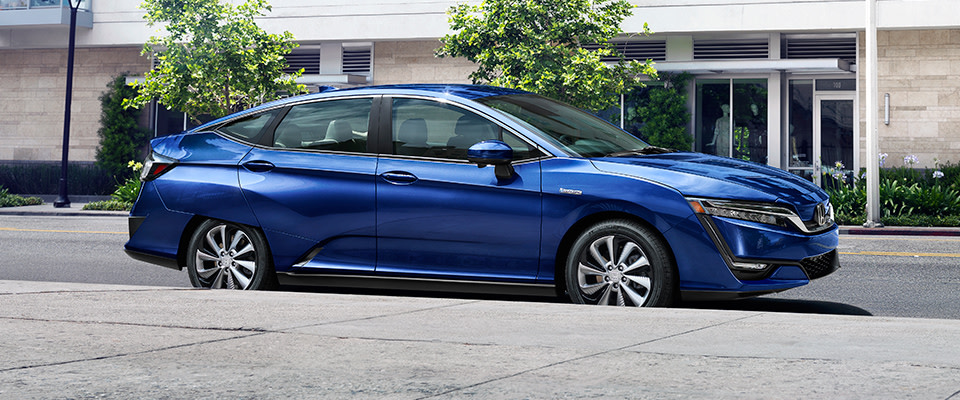 View 2018 Honda Clarity Inventory
2018 Honda Clarity in Milwaukee
Honda as an auto manufacturer believes in sustainability and the power of electric. This is why the company promises to make fully two-thirds of its fleet, either electric or otherwise, zero emission by 2030. The 2018 Clarity plug-in hybrid is one of Honda's first great steps in achieving that goal of ultimately transitioning consumer vehicles from gasoline to sustainability. Of course, this classy sedan is more than just an example of what's to come for Milwaukee drivers.
If you love saving money at the gas pump and are in need of an affordable Honda sedan, then this just might be your dream car. Check out the following overview of the 2018 Clarity:
Overview of Honda's 2018 Clarity Plug-in Hybrid
Exterior :: The Clarity offers a generally standard four-door sedan style. However, it isn't a vehicle that gets easily lost in the crowd. Thanks to its sleek, futuristic design, the Clarity has a unique look all of its own. This starts up front with a narrow grille featuring Honda's emblem and offset by thin LED headlights. The Clarity sits low on the ground with a wide aerodynamic body featuring a bold character line that strikes through the door handles and sculpts along the vehicle's bottom edge.
Interior :: This is a family-friendly vehicle featuring easy-to-use dashboard controls and outfitted with environmentally conscious interior materials that mesh comfort with sustainability. Because the battery pack is positioned down the vehicle's center, the Clarity offers more rear cargo space than many of its competitors.
Technologies :: Honda did not keep this exciting hybrid basic. The 2018 Honda Clarity comes packed with the Honda Sensing suite of state-of-the-art safety and driver suite technologies. From Adaptive Cruise Control to Collision Mitigation Braking System, the Honda Sensing suite is built to improve the driving experience and reduce the risk of collisions. In addition to these futuristic amenities, the Clarity includes both Apple CarPlay and Android Auto, both programs that allow seamless smartphone connections.
Power & Fuel Economy :: Engine power and fuel economy are likely the two most important facets of a plug-in hybrid vehicle. The 2018 Honda Clarity is no disappointment in this arena. The vehicle features a 17-kWH lithium-ion battery pack paired with a stout electric motor capable of producing 181 horsepower and 232 lb-ft of torque. This is a volume leader as it offers an impressive all-electric driving rating of 42 miles. That means if you can go to and from your daily activities in less than 42 miles, you won't have to spend a penny on gas. If you do travel farther, the 1.5-liter four-cylinder gasoline engine assists in extending the vehicle's electric-assisted range to over 330 miles at a combined EPA estimating rating of 105 miles per gallon.
Schedule a Milwaukee Test Drive of the 2018 Clarity Plug-in Hybrid
The 2018 Clarity is the perfect balance of style and sustainability. This is a vehicle that comes packed with all of the amenities you expect (and more) in a modern sedan, features premium materials, spacious enough for 5 adults, provides a quiet ride, and offers incredible fuel economy, with some drivers never even having to return to a pump station.
Honda's 2018 Clarity plug-in hybrid gets released this fall, and we are proud to be hosting a number of the new models. If you're interested in seeing this forward-thinking vehicle for yourself, contact us today to schedule a test drive. Our dealership of Russ Darrow Honda is conveniently located at 9301 West Brown Deer Road in Milwaukee. Don't wait, come see what we have today!
Directions to Russ Darrow Honda
Contact us about the 2018 Honda Clarity