2018 Honda Clarity near Jackson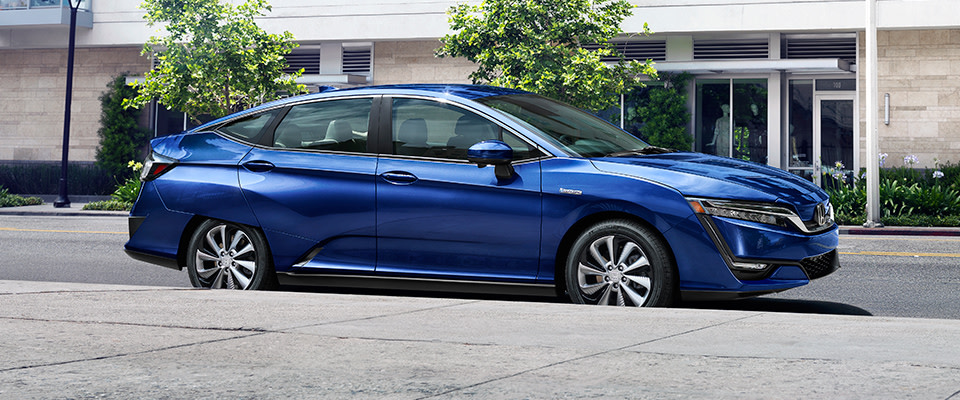 View 2018 Honda Clarity Inventory
2018 Honda Clarity near Jackson
For a stylish new hybrid, check out the 2018 Clarity Plug-In Hybrids for sale near Jackson at Russ Darrow Honda. With this brand-new model from Honda, you don't have to choose between driving a car that's environmentally responsible and one that looks good. The Clarity does both.
A Hybrid That Goes Above and Beyond
The Clarity, of course, has a powerful electric engine that greatly reduces fuel combustion. The engine itself produces 232 lb.-ft. of torque and 181 hp, and it has an all-electric range of 42 mi. When used in conjunction with the traditional engine, the two work together to get 105 MPGe (Honda's estimate).
It's not just when compared to traditional vehicles that the 2018 Clarity stands out, though. Even when compared to other hybrid models, the Clarity is ahead of the pack thanks to its:
plug-in electric motor that has an all-electric range of 42 miles
regenerative braking technology
aerodynamic undercarriage cover and air curtains
interior components made from recycled materials
In short, the Clarity goes beyond complementing a fuel-powered engine with an electric one. While equipped with an excellent electric engine, the plug-in hybrid also has several other features that help reduce its emissions and minimize its overall environmental impact.
Exterior Style That Turns Heads
The moment you see a 2018 Clarity for sale near Jackson, you'll agree the hybrid has style. Its sedan-like body provides a classic look while forward-thinking styling adds sophistication and aggressiveness. Full LED headlights and taillights illuminate the road ahead and behind, and standard 18-inch wheels roll ahead with class.
Interior Design That Provides Comfort
The interior is just as well designed and perfectly appointed to provide comfort and ease when driving. The recycled materials sacrifice nothing in feel or appearance, and the driver's seat comes with eight-way power adjustments and two memory settings to make sure the person behind the wheel is sitting comfortably. Honda's navigation system, which features 3D graphics, lane guidance and more, make it easy to get where you're going.
To see one of the brand-new Clarity models that are for sale around Jackson, make the short drive to 9301 W. Brown Deer Rd. in Milwaukee. We're here Monday through Friday from 9 a.m. to 9 p.m., and Saturday from 9 a.m. to 5 p.m. At our dealership, you'll find a large selection of new Hondas, including many Clarities waiting to be taken for test drives. Come by today, and see what makes this the hybrid to get.
Directions to Russ Darrow Honda
Contact us about the 2018 Honda Clarity