2018 Honda Clarity near Hartford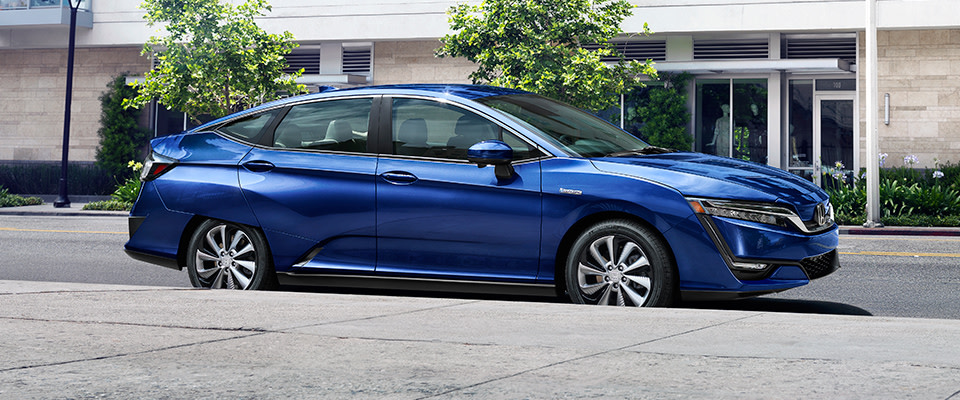 View 2018 Honda Clarity Inventory
2018 Honda Clarity near Hartford
If you are in the market for a new vehicle but have thus far avoided purchasing a hybrid vehicle, the new 2018 Clarity Plug-In Hybrid from Honda may change your mind about these vehicles. Lots of drivers in Hartford like the new Clarity, and there are several reasons why you probably will, too.
Range Comparable to a Traditional Vehicle
While offering an electric-only range up to 42 miles, the plug-in Clarity doesn't limit you to only driving around town. When on a longer drive, its Atkison four-cylinder engine increases the car's range up to 330 miles.
If you've been avoiding hybrid models because you were afraid their range was too limited, this should assuage your fears. A range well over 300 miles places the 2018 Clarity alongside many gasoline-only vehicles when it comes to distance driven on a single fill-up (or charge).
Space in the Back Seat
When building any hybrid vehicle, engineers face two major constraints regarding interior space. First, they must find a place to locate the vehicle's battery. Wherever it's put, the battery must take up some room. Second, there is pressure to make the cabin smaller because every additional cubic inch of space increases the vehicle's size. A bigger size increases weight and air resistance, and reduces efficiency and range as a result.
In many cases, it's the back seat that suffers as a result of these constraints. Hybrids' back seats have a reputation for being smaller than normal, because this is often an area where engineers try to save a little space.
The engineers who designed the 2018 Clarity, however, didn't sacrifice the back seat. Instead, they actually made it a priority. The Clarity's back seat is larger than any comparably sized hybrid's, and it's about the same size as many traditional vehicles' back seats.
If you haven't considered hybrids yet because their back seats are too small, sit in the back seat of a Clarity that's for sale near Hartford. You'll find it affords plenty of space for any passengers who ride in the second row.
(Other features, like regenerative braking, full undercarriage cover and air curtains improve the Clarity's fuel economy and reduce its drag. They more than counterbalance the larger back seat.)
Excellent Fuel Economy
The benefits of a hybrid's fuel economy can no longer be ignored. With an electric range of 42 miles, you can probably drive the Clarity to work and back every day without filling up on gasoline (as long as you charge the battery at night). When you do need both engines, the car still has an estimated fuel economy of 105 MPGe. That dwarfs the fuel economy of traditional vehicles.
If you considered hybrids when they first came out but determined they weren't efficient enough, it's time to reconsider getting a hybrid. Electric-only driving and a combined fuel economy over 100 MPGe can't be ignored. They'll lead to significant savings over the car's lifespan.
Before you purchase another traditional vehicle, come see us at Russ Darrow Honda. Check out the 2018 Clarities we have for sale around Hartford, and see if they aren't the ideal car for you. It'll only take a few minutes to drive to our dealership at 9301 W. Brown Deer Rd. in Milwaukee, and you'll likely be pleased with what you see in the new Clarity.
Directions to Russ Darrow Honda
Contact us about the 2018 Honda Clarity