2018 Honda Clarity for sale near Grafton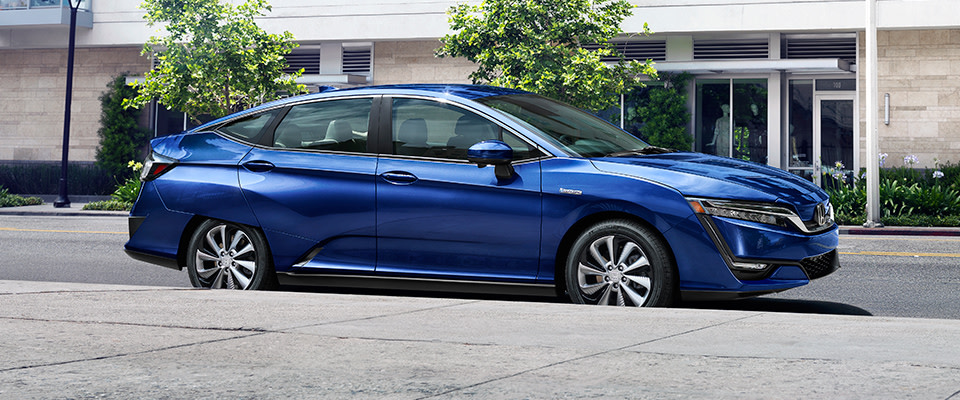 View 2018 Honda Clarity Inventory
2018 Honda Clarity for sale near Grafton
If you're looking for an environmentally responsible vehicle, come see the 2018 Clarities for sale near Grafton at our dealership. This brand-new plug-in hybrid from Honda takes a fourfold approach to environmental responsibility that truly makes an impact, and we at Russ Darrow Honda have a great selection of them. Here's a look at how the Clarity reduces emissions and waste.
An Efficient Electric Engine
First, at the heart of the 2018 Clarity is a 17-kWh battery that powers a strong electric engine. The electric engine can produce 232 lb.-ft. of torque and 181 hp by itself, and it's capable of going up to 42 miles without the aid of the combustion engine.
With this power and range, the electric engine is capable of meeting most drivers' everyday needs without burning gasoline. Whether going to work, school or out on the town, the electric engine has all the power and range needed for local driving.
(The four-cylinder Atkinson engine increases the Clarity's range to 330 mi. while still affording an excellent fuel efficiency that Honda estimates to be 105 MPGe. Thus, drivers aren't limited to only driving about town.)
Regenerative Braking
Second, regenerative braking technology helps recharge the battery whenever the brakes are applied. Under normal circumstances, energy is lost every time a car's brake pedal is pressed. Regenerative braking technology captures much of this lost energy and redirects it to the battery, thus capturing power that would otherwise be wasted.
By capitalizing on lost power, regenerative braking technology reduces the total amount of power the 2018 Clarity consumes. Regardless of whether the power is initially supplied through recharging the battery or filling the fuel tank, power is being saved. That's good for both drivers' wallets and the environment.
Aerodynamic Styling
Third, the Clarity's stylish exterior has several features that improve the hybrid's aerodynamics. For example, air curtains near the wheels and a fully covered undercarriage help direct wind to the rear of the vehicle and reduce drag.
Features like these might seem like minute details, but they make a big difference. Even though you might not notice them when you first look at a 2018 Clarity for sale near Grafton, you'll appreciate the increases in fuel mileage and range that they provide. The environment will as well, since you'll be using less fuel.
Recycled Materials
Finally, the Clarity's environmental features aren't just under the hood and on the outside. Much of the interior is made from recycled materials. This won't do much to improve fuel economy or range, but it's good to know as many resources as possible were conserved during the manufacturing of the vehicle.
At Russ Darrow Honda, we're proud to have many new Honda Clarities for sale so close to Grafton and other areas around Milwaukee. To see one (or several) of these environmentally responsible plug-in hybrids, come to our dealership at 9301 West Brown Deer Road in Milwaukee. We're here six days a week, ready to show you these or any other Hondas we have.
Directions to Russ Darrow Honda
Contact us about the 2018 Honda Clarity