2018 Honda Clarity near Fond Du Lac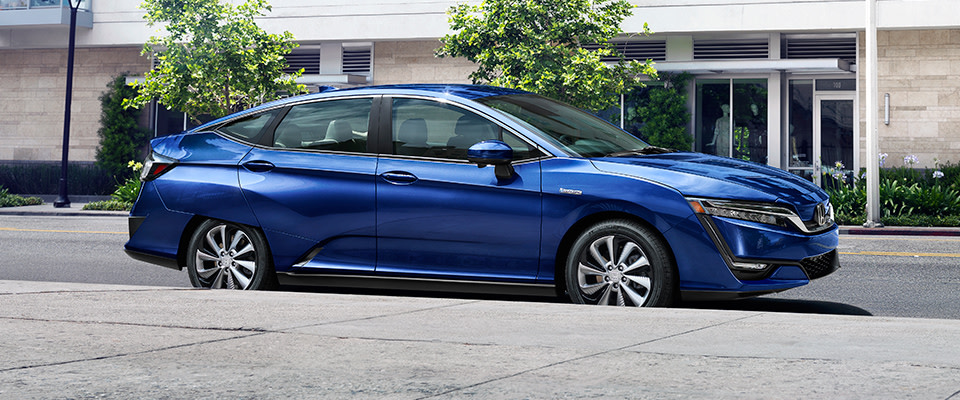 View 2018 Honda Clarity Inventory
2018 Honda Clarity near Fond Du Lac
For the best selection of 2018 Honda Clarity Plug-In Hybrids for sale near Fond Du Lac, come to Russ Darrow Honda. At our dealership, you'll find lots of new Clarity PHEVs for sale, including models in both of the available trims. Here's a look at the differences between the 2018 Clarity PHEV's EX and Touring trims.
Both Trims Provide Excellent Plug-In Hybrid Performance
When choosing between a 2018 Clarity PHEV EX and Touring that are for sale near Fond Du Lac, you won't need to base your selection on performance.
For, both trim levels include the PHEV's 181-horsepower electric engine and the hybrid's four-cylinder Atkinson engine. The electric engine provides peppy acceleration and a 42-mile electric-only range while the Atkinson engine adds more power for highway speeds and increases the maximum range to 330 miles.
Additionally, both trim levels include advanced features that help maximize the output of the two engines. Regenerative braking and an aerodynamic undercarriage are included on EX and Touring Clarity models.
Whether you choose the EX or Touring trim, you'll be more than pleased with the Clarity PHEV's performance. The car will get you to your destination, and it'll make sure you enjoy the drive on the way there -- both trims come with multiple drive modes for different behind-the-wheel experiences.
The Trims Offer Different Levels of Comfort
Instead, the EX and Touring trims differ primarily in the features they offer, and this is what you'll want to focus on when test driving new Clarities that are for sale near Fond Du Lac.
Despite being the base-level trim, the EX comes well equipped. It has features such as:
full LED headlights and taillights
18-inch wheels
a spacious back seat
Android Auto and Apple CarPlay
steering-mounted controls
a touchscreen display
Perhaps most importantly, the EX also comes with Honda Sensing. This is a driver-assist suite that includes lane-keeping assist, automated emergency braking, collision alerts and adaptive cruise control.
The Touring trim builds on these standard features by adding a host of available features and upgrades. Just as the features included on the EX trim involve exterior, interior, technology and safety items, so too do the Touring's upgrades. This trim, in short, provides a smoother and more refined ride for the driver who wants the ultimate and latest in plug-in hybrid luxury.
To compare a 2018 Clarity PHEV Ex and Touring side-by-side, come to our dealership at 9301 W. Brown Deer Road in Milwaukee. Take each for a test drive any day Monday through Saturday, and see which one you like better. You may just decide you like it enough to take the hybrid home.
Directions to Russ Darrow Honda
Contact us about the 2018 Honda Clarity