2018 Honda Clarity for sale near Cedar Lake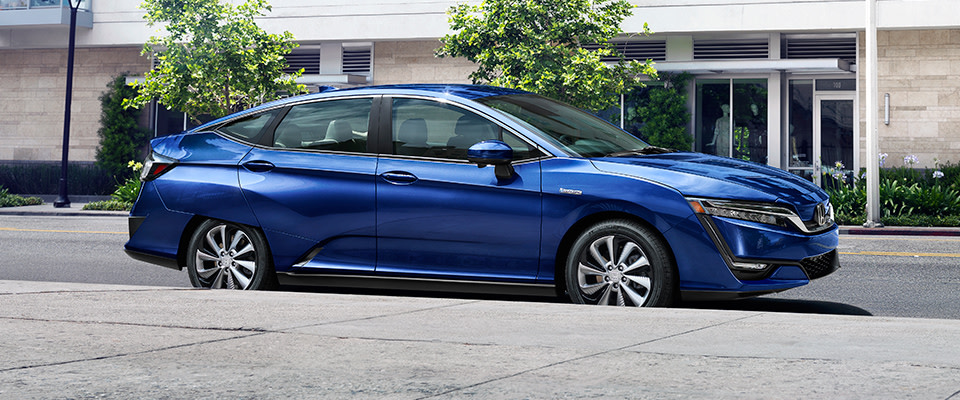 View 2018 Honda Clarity Inventory
2018 Honda Clarity for sale near Cedar Lake
For model year 2018, Honda is releasing a brand-new plug-in hybrid. The Honda Clarity promises to be one of the hottest hybrids of the year, and there will certainly be many 2018 Clarities selling around Cedar Lake. We at Russ Darrow Honda, of course, will have lots at our dealership on West Brown Deer Road in Milwaukee. Here's a look at just what the new 2018 Clarity Plug-In Hybrid (PHEV) is.
Part of a Threefold Platform
The Clarity PHEV is part of a three-car platform that Honda's branded "Clarity." The other two vehicles are the Clarity FCV, which is a fuel-cell vehicle that's available only in Southern California, and the Clarity BEV, which is an all-electric vehicle that's currently only available in Oregon and California. (There are plans to offer the BEV in eight additional states eventually.)
Together, these three cars form a flexible group of environmentally responsible vehicles on the same platform. As technology evolves and infrastructure grows in the future, Honda can adjust the Clarity model offerings to meet changing demand.
Right now, the Clarity PHEV serves as the most practical Clarity, which is why it's available in all states. The PHEV offers an eclectic range up to 42 miles and a combined range of 330 miles, and it can be recharged anywhere where there is electricity.
An Impressive Hybrid
While the Clarity FCV was available in 2017, this is the first year for the PHEV version of the car. As a brand-new hybrid, it shouldn't be surprising that the PHEV is one impressive car.
When you test drive a 2018 Clarity PHEV that's available near Cedar Lake, a few of the features to notice include its:
electric engine, which provides fast and smooth acceleration
regenerative braking, which directs energy lost to braking back to the electric engine
Honda Sensing, which is a group of driver-assist and safety features
spacious rear seat, which is larger than the rear seats in similarly sized hybrids
touchscreen display, which is equipped with Honda's satellite-linked navigation system
interior components made from recycled materials, which don't sacrifice craftsmanship
To see all that this car has to offer, come see the Clarity PHEVs we have for sale near Cedar Lake. Our sales staff is here six days a week, and we have plenty of Clarities in stock to show you. Come and check them out today. You might just decide to drive one home.
Directions to Russ Darrow Honda
Contact us about the 2018 Honda Clarity